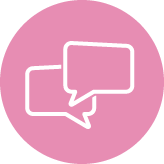 Support for people with aphasia (communication difficulties after stroke)
We provide specific support for those with speech and language difficulties who want to practice their communication in a supportive and understanding environment. All our staff and many of our volunteers have had specific training from Speech & Language Therapists, and our counselors are experienced in providing support for people with communication difficulties.
Bristol After Stroke facilitates a peer-led drop-in group for people with aphasia. It is led by Bristol After Stroke volunteers, many of whom have had, or still have similar difficulties themselves. The Conversation Cafe provides an environment where you practice speech and other forms of communication, and share skills and tips.
It is held at:
The Station, Silver Street, BS1 2AG
Time:
2pm – 4pm
Please see below for the dates of the group in 2019:
Monday 7th January
Monday 4th February
Monday 4th March
Monday 1st April
Monday 13th May
Monday 3rd June
Monday 1st July
Monday 5th August
Monday 3rd September
Monday 1st October

Monday 5th November
Monday 3rd December
---
Conversation Group
Bristol After Stroke occasionally runs a structured short course of communication tips and confidence building activities for people with aphasia. Click here for more information
---
Download the flyer here Aphasia_Cafe_flyer_2019.pdf