Bristol After Stroke runs a focused six-week programme to help people with aphasia gain confidence and improve their communication skills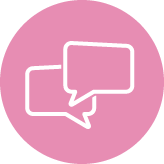 About Aphasia
A third of people who survive a stroke are left with some form of aphasia – a disability that occurs when the communication centres in the brain are damaged. Every person experiences it differently – there can be issues with:
Getting the message in – problems with listening and following a conversation, or reading
Getting the message out – problems with speech, making sounds, finding words, putting words together into sentences, or writing
It is understandable that living with aphasia can make people feel depressed, anxious, lonely and embarrassed, and it can be equally difficult for carers and loved ones.

About Conversation Group

Conversation Group offers a structured programme of communication workshops supporting practical and psychological recovery from the impact of aphasia. You may not recover your previous powers of communication, but you can be supported to improve your skills and confidence to enable you to get on with life.
Conversation Group:
Is facilitated by Bristol After Stroke staff and volunteers – many of whom have suffered from aphasia themselves.
Each session is structured around a chosen topic and practical tips, and offers opportunities to talk, listen or otherwise communicate through gestures and facial expressions in a supportive and understanding small group environment.
The main outcome for participants is improved confidence to communicate and engage in a range of social settings. Many of our previous participants have gone on to volunteer with Bristol After Stroke at our peer support groups and cafés.
Note: There is a small charge for this course

---
The next course - to be confirmed

For more information contact us
---