Bristol After Stroke Volunteer Day 2019
Bristol After Stroke could not do everything we do without the untiring generosity of our team of volunteers. Each support group, short course and café has its own team of regular volunteers, but across the organisation we don't often get the chance to all come together. So once a year we hold a thank you and celebration day bringing our volunteers from across Bristol and South Gloucestershire together. This is our opportunity for the organisation to say thanks and for volunteers to receive some training and give their feedback on our services and activities.


On Tuesday 18th June volunteers from all around Bristol After Stroke's services and areas came together to celebrate all their hard work and commitment to the organisation. Over the day we shared lots of experience and opportunities to meet fellow volunteers, contribute to Bristol After Stroke's strategic and service developments, think about how they can contribute to our activities and services, and celebrate the contributions of each volunteer.

Keeping our volunteers up to date
Alive, an innovative charity specialising in delivering activities for older people in different settings, ran a workshop for us. It encouraged us to think about how we can engage our service users to get involved in designing the activities our members do at our regular weekly Stroke Support Groups and how our volunteers can help. We enjoyed an example of one of the activities Alive does with its groups – an interactive discussion centred on found objects. We all chose an object and explored what it meant to us and how we could use it to facilitate a conversation with a client. Finally, we explored the concept of active listening by practising what it feels like to be ignored!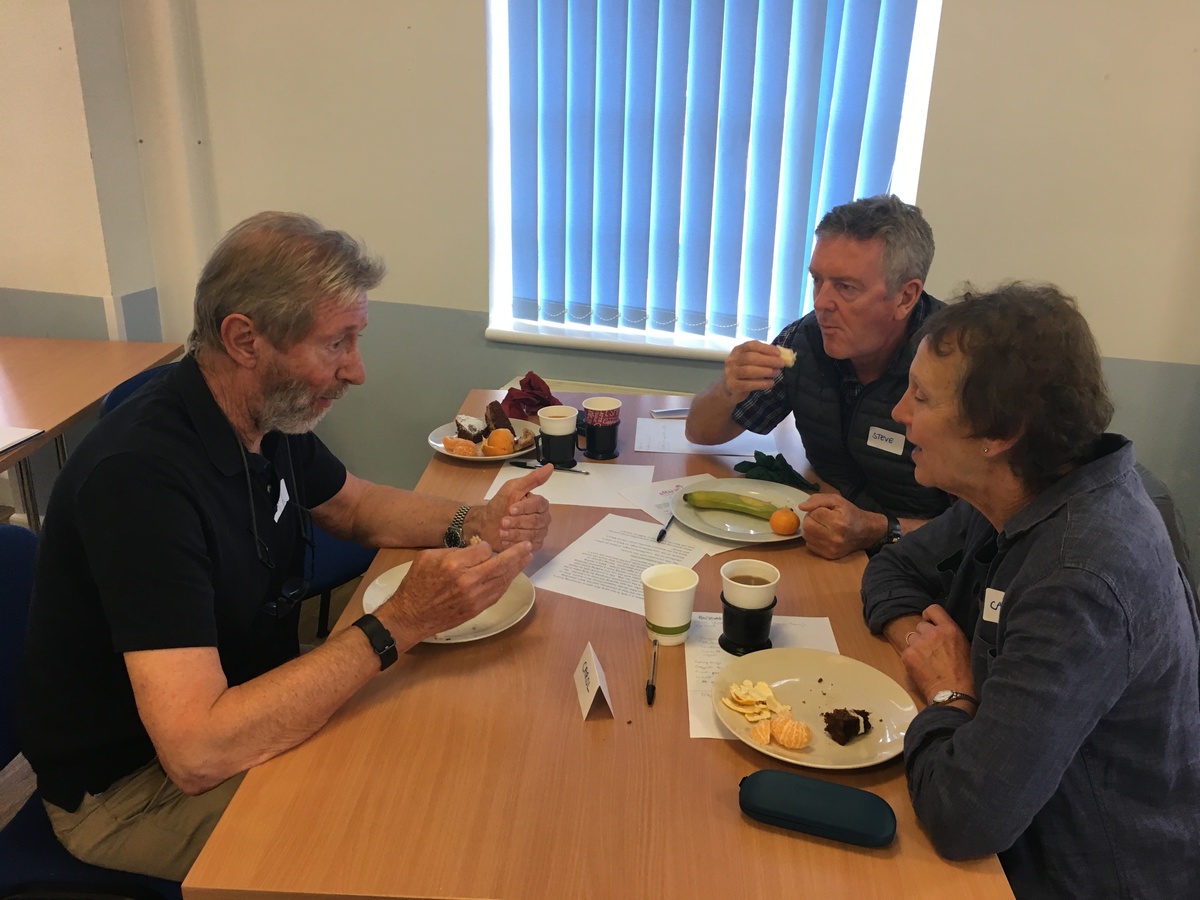 After a leisurely lunch with lots of conversation and sharing, staff and trustees gave an update on developments at Bristol After Stroke and encouraged the volunteers to feedback their ideas and opinions.
Celebrating & appreciating our volunteers
We completed the day with a wind-down yoga activity from Suzie Delve and our presentation of thanks. This year we gave out lapel badges and goody bags. Thanks so much to Aldi, Sainsbury's and the Riverside Garden Centre for their donations. We particularly celebrated the contribution of longstanding volunteers some of whom have been with us for more than five years – and we have a fair number. We say a huge thank you to them for their ongoing commitment!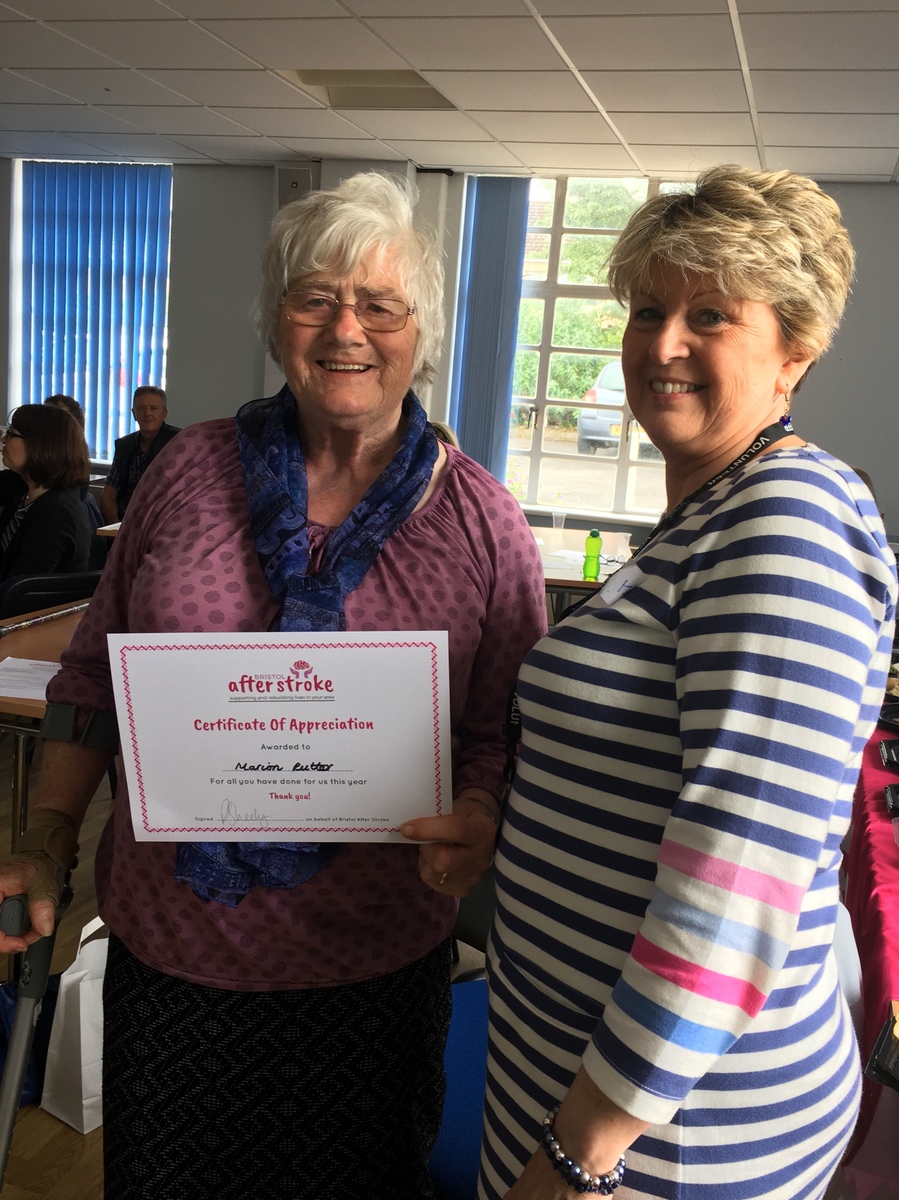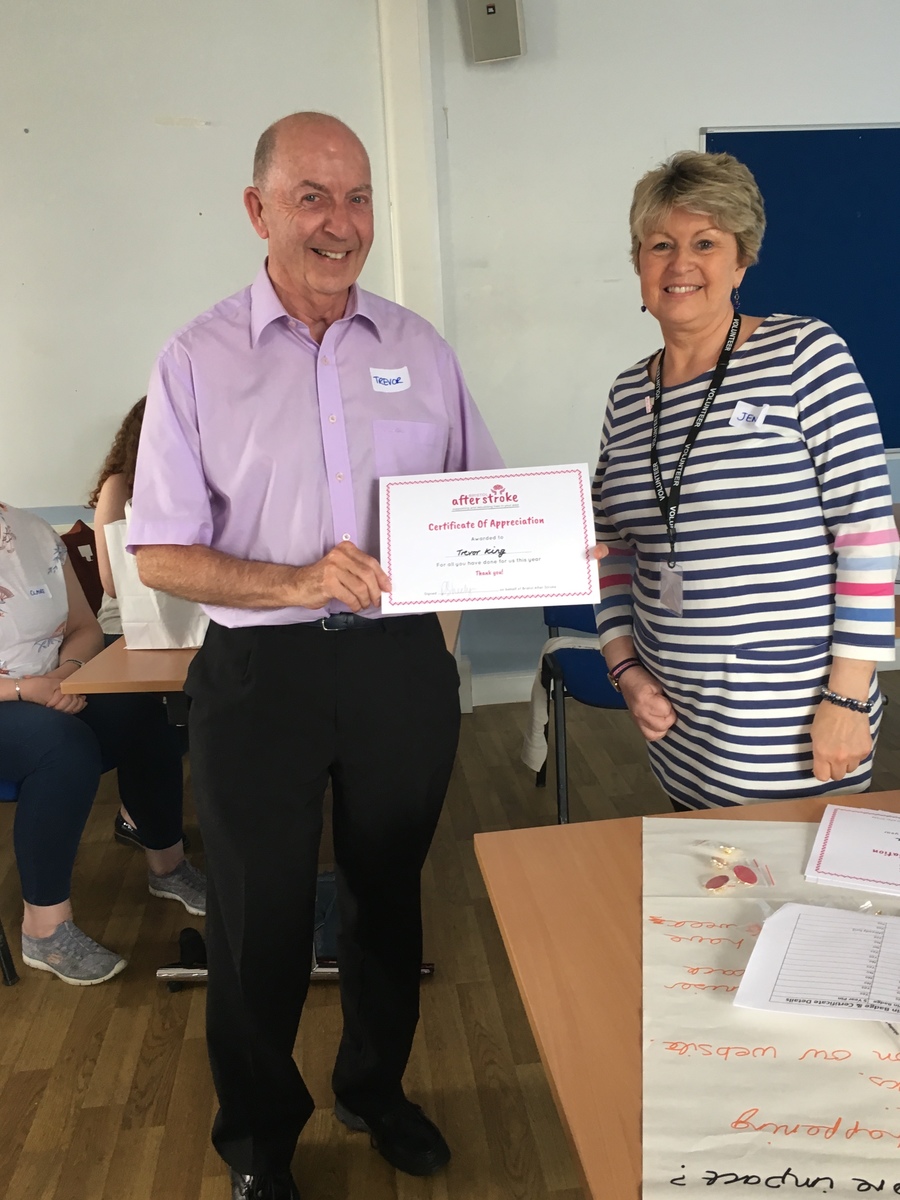 Volunteers collecting certificates and pin badges from our Senior Volunteer, Jenny Smith
Thank you for your thyme!

Everyone one – staff, trustees and regular volunteers – had a great day with lots of people expressing how much they enjoyed the opportunity to meet other volunteers!
We are very grateful for the support of local businesses and supermarkets - Aldi, Sainsbury's, Lush and the Riverside Garden Centre for the contributions to the goody bags we gave to all our volunteers on the day.