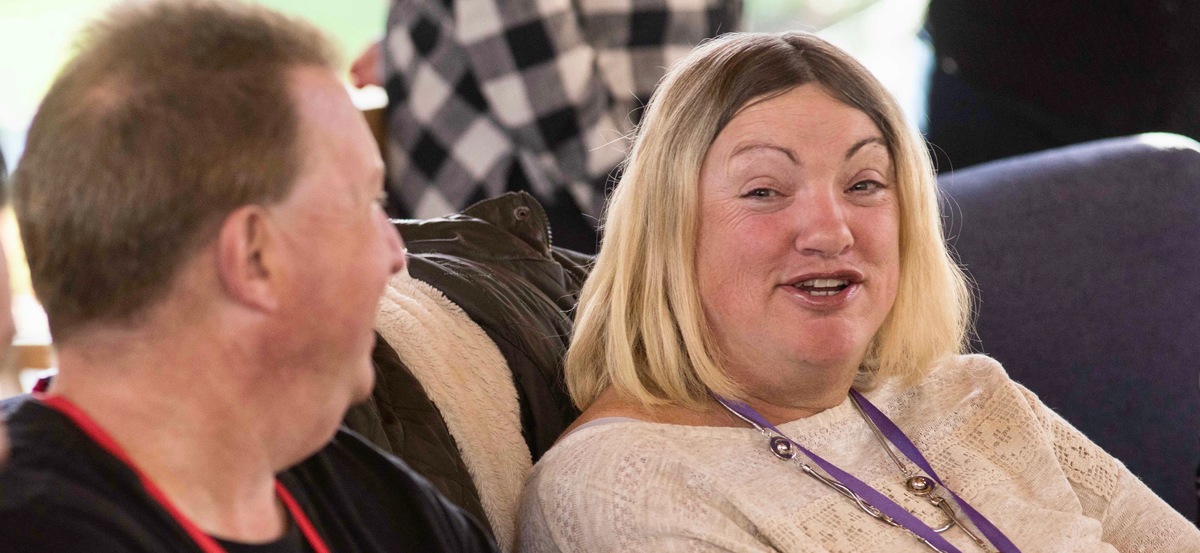 Sarah's Story
"I had my stroke on the 29th January 2012. When I felt unwell, I thought I had the start of a cold and went to bed. When I woke up I had a job to walk downstairs, but managed to have some breakfast. Then the right side of my body felt limp and my leg gave out. I asked my husband to take me to Frenchay Hospital A&E where they did some tests and scanned my head and said I would be staying, and there I stayed until I was put on the Stroke Ward the next day.
They tested me for MS, Cadasil Syndrome and other things, and finally said I had extremely high blood pressure. I had an MRI scan late at night which diagnosed that I had a stroke with right-sided weakness, which meant I had to be hoisted in and out of bed, wheeled in and out of the bathroom, or I had to use a commode. I can't really remember a lot about my stay in Frenchay Hospital except that the food was not particularly great! I seemed to be in there for a long time – at least four to five weeks. Then I was told I would be moved to Southmead to have physiotherapy every day.
Out of hospital – a birthday present to remember!
I was determined to be out of Hospital for my birthday on 30th March and I came out of Southmead a week before my Birthday. I then had the OT (Occupational Therapy) and Physiotherapy people for six weeks, every day for the first week, then four times for the second and third week, then it got to twice a week and after six weeks it stopped. I was on my own. My husband was a work. I was lucky as my two sisters would come over once or twice a week to help me in the shower to wash my hair, and so on.
I did have a few falls in the beginning and it would take me a long time for me to crawl to somewhere I could pull myself up. This happened in the first year. I carried on doing exercises that the Physio and OT gave me. I could walk a bit further every day. I did get very tired in the first couple of years, and didn't have much stamina.
Returning to work
I worked as a Senior Housing Officer for South Gloucestershire Council. Eventually I went back to work after a year out on a phased return basis for six weeks. I could not do my previous job as I needed to drive. I did take a driving assessment but was told my perception had gone and I would be a danger on the road. So, I was put in another department but that did not work out, but eventually I was offered a good package to retire early on ill health grounds.
I then started to go to the Bristol After Stroke Fishponds Stroke Support Group, which is for younger people affected by stroke. I now volunteer there. I also did the Next Steps programme which involved an hour's exercise which was very varied and as the six weeks progressed it got harder and harder. I also managed to get some further physiotherapy to help with my walking for a year, and I got Exercise on Prescription for twelve weeks.
This finally finished in 2016. I still walk from where I live in St George to the Co-op in Hanham. It used to take me an hour but now I have got it down to half hour!
Improving continually
I feel that things are still improving. Over the last year I can walk around the house without using my walking stick. I go on the bus to Broadmead and actually walk to the bus stop which is uphill and it takes half an hour. I volunteer at Stroke Support Group and work one day a week at Kingswood Community Transport. Finally, I can peel a potato using my right hand with a potato peeler and my most recent achievement is making a cake using an electric whisk with my right hand. And I can play darts again standing up!
I feel as though I continually improve as time goes on and I have the determination to do this. There's hope for everyone and I would like to say just do not give up even after five years.