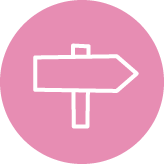 A short course to help you get on with your life - after stroke
ACTion After Stroke is a four-week programme to help those directly affected by a stroke and carers to come to terms with and adjust to the life changes they face after stroke – particularly the psychological impacts. It can be particularly helpful for people experiencing distress and disturbing thoughts in the months and years after stroke.

The two-hour sessions help people to understand their own thinking processes and how these shape their goals and actions, as well as learn positive approaches such as relaxation and mindfulness. At each session you will learn simple techniques that can help change patterns of thinking and behaviour.

Note: You won't be asked to share anything about your personal circumstances or problems, but there is an optional fifth session where discussion about the course and your reactions to it is facilitated by our Lead Counsellor.

To find out more about ACT and hear first hand from previous participants please watch our short film:
Note: There is a small charge for this course

---
Mindfulness
We run occasional one-off sessions to enable you to develop further the mindfulness and relaxation techniques introduced during the ACTion after Stroke course. However you do not need to have completed ACTion after Stroke to take part.

Note: There is a small charge for this session

---
Upcoming sessions
Mindfulness - 22nd March 2022 this will take place via Zoom - to book your place please contact the office on 0117 9647657
ACTion after Stroke : The next course starts 26th April running every Tuesday for 5 weeks. This will be held at Lyde Green Community Centre - contact the office on 0117 9647657 to book your place
More information on our Events & Activities page. Contact us to book your place
---
Need more help?
Some people may find that ACTion after Stroke addresses their emotional and psychological needs, whereas others may find they need to explore their issues in more depth. Our one-to-one counselling service offers an opportunity to explore your feelings in more depth and at very low cost. Contact your Key Worker or the office for more information
---