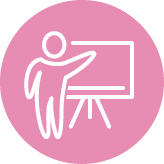 Bristol After Stroke offers short courses designed to support different aspects of your recovery. We can help with some of the particular impacts of stroke.
---
We offer further physiotherapy in a small group setting to help you work on particular issues of movement and mobility. It offers advice and support with maintaining a healthy lifestyle after stroke.
---
ACTion after Stroke is designed to help overcome emotional and psychological suffering and distress after stroke, and help you adapt to your new life. We invite carers and spouses to join in. ACTion after Stroke introduces relaxation and stress management techniques such as mindfulness, and from time to time we offer one-off sessions to enable you to refresh and build your skills in mindfulness.
---
Bristol After Stroke offers specialist support to people with aphasia as a lasting impact of their stroke. Conversation Group is a structured six-week course to help you gain confidence and improve your communication skills
---
Contact your Stroke Support Coordinator to discuss the suitability of any of these courses for your recovery